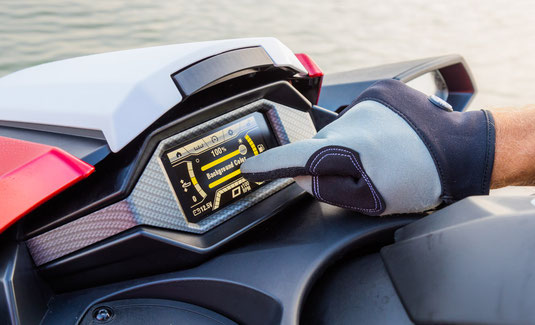 Industry's First Color Touchscreen Instrumentation
The FX Series is the first personal watercraft to feature a multi-color LCD touchscreen.
Yamaha's Connext touchscreen offers all vital system information, customized features and includes a new Drive Control technology for personalizing riding experiences. Drive Control allows operators to program engine speeds and acceleration curves.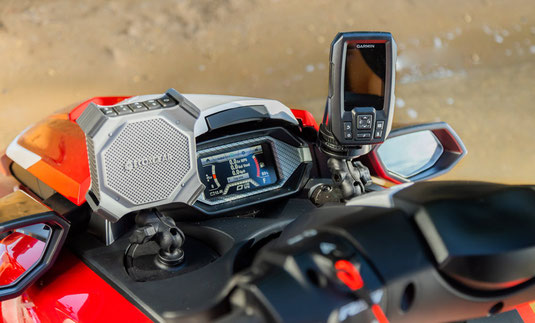 New RAM Multi-Mount System to Support New Accessories
All 2019 FX WaveRunner models now come standard with a new RAM Multi-Mount System to support a range of accessories (including RAM mounts).
These accessories (sold separately on all FX models except the FX Limited SVHO) include ECOXGEAR Waterproof Wireless Bluetooth Speakers and a Garmin Striker GPS Fish Finder w/ Transducer. You can take the speakers with you to the beach, and the Fish Finder can be removed quickly and stowed away when not in use.
"As the flagship of the line, we really put some thought into how to update the FX series to create unbelievable experiences on the water for our customers," said Scott Watkins, Yamaha WaterCraft's WaveRunner product planner. "The new touchscreen puts more control than ever in the fingertips of the rider, with more detailed information and customization than any other watercraft in history. In addition, we know that customers like to customize their ride, and the multi-mount system allows them to make their watercraft their own, for how they plan to use it, whether they're cruising, making videos, beaching, touring or fishing, the capability is all there."